BELIEVING IN THE BOOK OF MORMON
"I Nephi, having been born of goodly parents… make a record in the language of my father" (1 Nephi 1:1,2)

So begins the story in the Book of Mormon concerning the migration of a man named Lehi and his family from Jerusalem in 600 B.C to the American continent. The book then continues, recounting some of the historical events that happened to Lehi's descendents for the next thousand years. Just as the Old Testament tells the history of God's dealings with a man named Jacob and the descendents of his twelve sons, so too the Book of Mormon tells the spiritual history of Lehi's children, who went on to form two great nations. One nation was named after Lehi's eldest son, Laman, who called themselves Lamanites, while the other nation took upon themselves the name of their founder, Nephi, who was Lehi's fourth son and called themselves Nephites.

For millions of people who belong to the Church of Jesus Christ of Latter-day Saints, this book is consider to be a factual and accurate account and believe that it is the word of God in the same way as is the Bible. They further believe that a young man named Joseph Smith translated this book from an ancient record that was written on gold plates back in 400 A.D. and that the location of where these plates were buried was shown to him by an angel of God.

However, to many outside the LDS Church, especially those of other religions, this book is viewed as a work of fiction, dreamed up in 1830 by an imaginative, out-of-work twenty-five year old man named Joseph Smith. Because of this view, for more than a hundred and seventy-five years these critics have diligently tried to find some kind of concrete, absolute, irrefutable evidence to prove that the Book of Mormon is nothing more than fanciful literature, thereby proving that the LDS Church and its doctrines are based on a lie.

Recently, scientists have finished mapping the human genome, which allows them to better understand and study the DNA molecule that provides our bodies with the blueprint it needs to know how to form and develop. With this knowledge scientists are now better able to determine our ancestral heritage through the study of our genes. By comparing the genes of one group of people to another, they have been able to determine who is descendent from whom. Of particular interest to many has been the study of tracing the lineage of the Jews.

Since Lehi was a citizen of Jerusalem, and therefore, presumably a Jew, it was felt that if the story in the Book of Mormon is true then there should be evidence of Jewish heritage in the DNA of the native people living today in North, South, and Central America. However, when scientists did study the mitochondrial DNA of these people, no evidence was found linking them to the Jews. Therefore, the critics of the LDS Church believe they finally have the proof they've been looking for to prove that the Book of Mormon is not what it claims to be.

Biblical genealogy generally follows the ancestral line of the son to the father. Genetically, this can easily be done by comparing the Y-chromosomes of men, which is transmitted without variation from father to son. By comparing the Y-chromosome of one male with that of another, if the two match identically then scientists know they are related to one another. This is true even if the two individuals are separated by many generations.

On the other hand, by comparing a person's mitochondrial DNA (mtDNA) with that of someone else, scientists are able to determine that person's lineage through their mother because this gene is transmitted to all of her children without any change. Because of this fact, the critics claim that since Lehi's wife, Sariah, was a Jew, we should be able to find evidence of Jewish mtDNA among the native people of Central, South, and North America where, it is believed, the people of the Book of Mormon lived. However, from studies that have been made, comparing the mtDNA of native Americans with those of today's Jewish population, scientists have not been able to find any similarities so far between these two groups of people. To some, this strongly suggests that the native people of the Americas are not related to the Jews. Because of these findings, critics of the LDS Church have been very vocal in broadcasting the news that the story in the Book of Mormon is not supported by scientific fact and is therefore a false book.

Since the field of genetic research is fairly new and most people don't know very much about it, they tend to accept without question what someone has to say on this subject, especially if that person appears to know what they are talking about. Furthermore, not all scientists agree with one another on this subject. Therefore, when someone is given the perspective of just one group of scientists they may easily believe that such a perspective is endorsed or held by all other scientists in that field. Since the critics of the Book of Mormon have a stake in making sure that the evidence they present supports their viewpoint, they don't always tell the full story. As a result, many people, both within and without the LDS Church, tend to accept the conclusion of the critics based on the evidence they alone present. Since that's the case then it becomes important for us to look at all sides of this issue before coming to any firm conclusion.

There are several flaws in the argument made by the critics of the Book of Mormon concerning DNA research.

To illustrate the first one, let's suppose there is a woman named Mother 1 (M1). When she has children (1 and 2 in the illustration to the left), all of them, both male (in black) or female (in red) will carry her mtDNA, meaning that when their mtDNA is examined it will be identical to that of Mother 1, thereby showing they are related to one another. When child 1 marries and has children (3 and 4 in illustration to the right),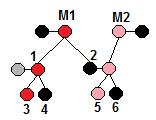 each of them will likewise carry the mtDNA of Mother 1.
However, when child 2 marries, all of their children (5 and 6) will carry the mtDNA of their mother, who is carrying the mtDNA of Mother 2 (M2). That means, even though children 5 and 6 are the grandchildren of Mother 1 they do not carry her mtDNA. As such, studying their mtDNA would not show they were related to Mother 1.