<! BGCOLOR = #ffffff>
INTRODUCTION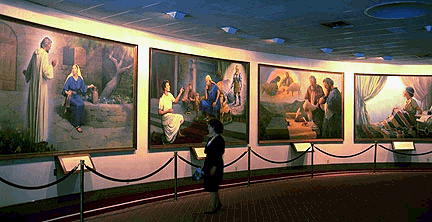 The Lord has admonished us to "Seek not for riches but for wisdom; and, behold, the mysteries of God shall be unfolded unto you." (D&C 11:7), and the place where we find the wisdom of God is in the scriptures.
The scriptures are full of practical wisdom, full of spiritual guidance, full of history, and full of controversy, contradictions and confusing doctrine. The Bible, in particular, is the most widely read book in the world and has also produced the most widely differing doctrines of religious beliefs among men.
We've been instructed to not only read the scriptures, but to study them and ponder their meaning and significance in our life. Our goal is to more fully understand and appreciate the true message of the gospel while learning how to apply it in our lives. If we do this prayerfully, seeking the inspiration of the Holy Ghost to guide and teach us as we search for enlightenment and truth, we are promised that the mysteries of the kingdom will be revealed unto us (1 Nephi 10:19).
But when that happens, what are we to do then?
The scriptures tell us that "No man, when he hath lighted a candle, putteth it in a secret place, neither under a bushel, but on a candlestick, that they which come in may see the light." (Luke 11:33) I am convinced that when we gain knowledge, it does us no good unless we share it with others. Over the years I have sought to study the scriptures and have come to understand some principles of the gospel in ways that are not commonly thought of. Perhaps this is more of a weakness than an asset on my part, but I have often pondered the question, "Now that I have learned of these things, what am I to do with such knowledge?"
This site contains a compilation of thoughts, reflections and sometimes unique perspectives I have had on various aspects of the scriptures. They range from historical facts and basic doctrine to the mysteries of godliness. None of the things I have written are intended to convince non-Mormons of our position, nor critisize them for theirs. Although the articles contained under the heading "The Foundation of Faith" contrast our views with those of other faiths, my comments are solely meant to give members of the LDS church a deeper knowledge of what we believe and a reason for why those beliefs differ from others. All of my writings are designed to offer members of the LDS faith a greater indepth understanding of the doctrines we embrace.
The purpose behind this work is not to glorify myself, either in mine own eyes, or in the opinion of others, but rather is an attempt to satisfy an uncomfortable feeling within me of what to do with the information I have gained from my studies. Hopefully, I have received this knowledge through the inspiration of the Holy Ghost, but it is up to you, the reader, to determine for yourself whether the things contained herein are indeed from God or from my own fertile imagination.
Orignially, I had considered publishing these thoughts in book form but, with easier access to the internet than to publishers, I have decided to share this information freely with anyone who wishes to read it. However, it should be noted that everything contained in these writings are copyrighted and protected by law. No one may use any part of this material for commercial gain without my expressed written consent.
What I have written should not be construed as any indication of divine revelation, but is intended solely as thought-provoking ideas to consider. I like to think of them as subjects that might be discussed in an adult Sunday School class. To the extent that they provide interesting concepts, stimulates deeper contemplation, and produces more interest in searching the scriptures, then my goal will have been achieved.
May the Lord bless you to this end is my humble prayer.
---

Return to home page